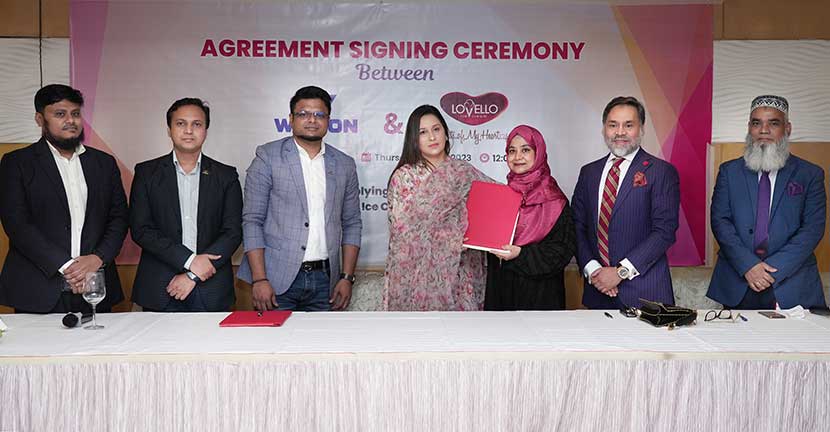 Walton and Lovello sign an agreement on supplying 25K units of ice cream freezers.
Superbrand Walton has signed an agreement with the renowned brand Lovello to supply its domestically produced international standard ice-cream freezers.
As per the deal, Walton is set to supply total of 25,000 units of ice-cream freezers gradually to Lovello.
The deal was signed between Walton and Lovello at a program held at The Westin Dhaka in the capital on Thursday (May 11).
Taufika Foods and Lovello Ice-Cream PLC.'s Chairman Datin´ Shamima Nargis Haque and Walton Hi-Tech Industries PLC.'s Director Zakia Sultana signed the agreement on behalf of their respective organisations.
Among others, Taufika Foods and Lovello Ice-Cream's Managing Director Dato´ Engr. Md. Ekramul Haque, Chief Operating Officer Engr. Md. Kamruzzaman, Chief Administrative Officer Engr. Kawsar Ahmed, Walton fridge's Chief Business Officer (CBO) Tofail Ahmed, Chief Marketing Officer (CMO) Didarul Alam Khan, Senior Executive Director Md. Shahjada Salim and Engr. Tanvir Anjum, Head of Corporate Sales Ahmed Tanvir and Deputy Executive Director Rabiul Islam Milton also attend the function.
Addressing the event, Walton Hi-Tech Industries Director Zakia Sultana said, "The ice-cream market in Bangladesh is growing day by day and thus the domestic market of ice-cream freezers is widening as well. Such a promising giant market was import dependent. Reducing the import dependency, Walton made a revolutionary changes in the domestic industrial sector. Now, Bangladesh is self-sufficient to meet the demands for commercial freezers. Following the top popular brand Lovello, we hope that country`s other brands will also keep their faith on the locally manufactured Walton`s international standard tempered glass door ice-cream and other commercial freezers."
Taufika Foods and Lovello Ice-Cream's Managing Director Dato´ Engr. Md. Ekramul Haque said, "Walton and Lovello are top two renowned brands of Bangladesh. Every year, Bangladesh`s ice-cream manufacturing companies import around 30K units of freezers. Through today`s agreement between Walton and Lovello, Walton has started its journey in the domestic ice-cream freezer`s market. Gradually, Lovello alone will purchase 25K units of ice-cream from Walton. The figure will be further increased in future."
Walton fridge's CBO Tofail Ahmed said, the annual market demand for ice cream freezers in Bangladesh is around 25K to 40K units whereas Walton's annual production capacity is more than one lakh units. On the other hand, the annual demand for beverage coolers in Bangladesh is nearly 40K to 50K units while Walton`s alone yearly production capacity is more than 40K units. Still now, some local dealers and industries are importing ice-cream freezers, beverage coolers and then distributing in the domestic market with high prices. As a result, country`s foreign currencies has been spending and on the other hand the domestic manufacturers are incurring financial losses. The government should take stern actions against the imports of domestically produced beverage coolers and ice-cream freezers in a bid to help the local hi-tech industries move forward.
Lovello has more than 22,000 retail sales outlets across the country with registering nearly 20 percent business growth every year.
With the combination of cutting-edge technology and state-of-the-art machinery, Walton is producing and marketing over 250-model of fridges at its headquarters in Chandra of Gazipur. The fridges include huge energy efficient frost and non-frost refrigerator, freezer, ice cream freezers and beverage coolers. Worldwide recognized environmen-friendly R600a refrigerant is being used in the compressors of Walton fridges that saves energy and environment simultaneously.